Pidgin - short messaging client application
Latest version: Windows: 2.14.8 | macOS: Adium 1.5.10.4 / Pidgin - 2.14.8 |

Report a new version of the program




Edited news: 30-11-2021, 00:47

Reason: Updating Pidgin versions for Windows and macOS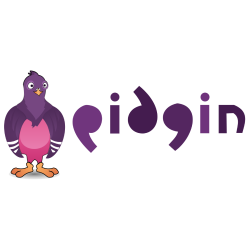 Pidgin is a cross-platform client application for real-time short messaging. The program can be installed on computers running Windows, MacOS, Linux and other Unix-like operating systems.
The client application supports many languages ​​of the world. With Pidgin, you can register with one or more chat networks. Send and receive text messages from users. Leave messages about the presence or absence of the network. With Pidgin, you can share files, send emoticons, and invite friends.
The program has an intuitive user interface. The application window displays the status of networks, user statuses, tabs, avatar icons and other information. In addition to the usual contact list, the program can create contact lists that unite users into groups (metacontacts). The Pidgin OTR protocol allows encryption of text messages. The program allows you to receive messages even when the working window is closed.
Pidgin uses the popular XMPP and IRC messaging protocols. XMPP is well known to users for its Jabber application. Besides text messaging, XMPP supports voice, file and video transmission. IRC is widely used in the networks of the same name for transferring text messages.
With support for common communication protocols, Pidgin is compatible with popular online chat rooms such as Gadu-Gadu, Novell GroupWise Messenger, Bonjour, IRC, Jabber / XMPP, Lotus Sametime, Zephyr, SILC, and SIMPLE. Connecting additional modules allows you to expand the possibilities of registration in other chat networks.
Pidgin is distributed free of charge under the GNU General Public License. This license implies free downloading and unlimited copying of the program. The app developers are open source and welcome user-contributed improvements.
Installing Pidgin is usually straightforward for Windows and Linux users. After successful installation of the application, you can register on the selected network by entering your login, password and, if necessary, the server name and other attributes accepted in the chat network.
20-02-2021, 04:36