Viber - calls and SMS for free!
Latest version: Windows: 17.0.0.0 | Android: apk - 16.9.0.2 / xapk - 16.9.0.8 | macOS: 17.0.0.0 | iOS: 17.0.0 | Windows Phone: 6.6

Report a new version of the program







Edited news: 19-02-2022, 08:18

Reason: Updated versions for macOS, iOS and xapk for Android.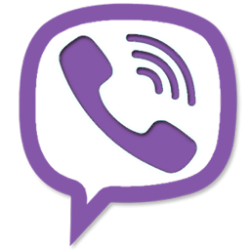 The functionality of the Viber application is like Skype, with the only difference being that Viber is designed as a mobile application for a smartphone. But still, multi-platform.
With the help of Viber, the cost of calls and SMS messages will be reduced, just connect the mobile Internet.
Application service as a competitive advantage flag.
How soon to start using VIBER?
The application must be downloaded via GooglePlay, if the smartphone with the Android operating system or the AppStore, if the operating system is iOS and installed. Installation is automatic.
To save yourself from fraud and viruses, it is better to download the program from the official website or source that you trust.
Pluses of the Viber
+  Absolutely free audio and video calls;
+  The ability to send video files, text documents, photos, embedded stickers, audio and video messages;
+ Ability to delete an inadvertent message;
+ Reliable security of messages through encryption. It is unrealistic to find reliability above and overestimate it;
+ ViberOut is an option that allows you to call landline numbers in any country. The service is conditionally paid and very low compared to mobile operators;
+  Good connection quality;
+  The distribution of the program is easy, does not take up much space on your smartphone.
Where to download Viber?
GooglePlay,
AppStore,
official site
source you trust
When the application is downloaded, it is necessary and sufficient to accept the user agreement and wait for the installation to finish.
How to start working with VIBER?
The first thing after installation, you must register the profile. Enter the phone number in the field that appears. Get and activate the code. Register your name and choose your favorite avatar. Everything is done. You are the triumphant owner of a popular messenger and the owner of instant messaging with friends, family, colleagues.
Among the messengers of varying complexity, Viber is the most intuitive with a clear concept.
4-08-2019, 09:52