SmartFTP - a comfortable and functional FTP client
Latest version: Windows: 10.0.2941.0 |

Report a new version of the program



Edited news: 16-02-2022, 16:39

Reason: Windows version update.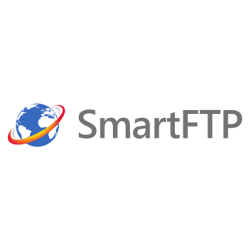 SmartFTP is an FTP client that supports the most popular servers and protocols: FTP, SFTP, HTTP, WebDAV, as well as SSH.
Smart FTP Client
SmartFTP is a comprehensive FTP file transfer tool. The many features available will be appreciated by more advanced users. If you frequently update files on a remote FTP server, use SmartFTP.
An FTP client is an application used to transfer files between a user's computer and an FTP server. Therefore, SmartFTP will be useful mainly for webmasters who want to update documents, for example, on WWW-servers.
Benefits
SmartFTP is easy to configure, search for files, and resume broken connections. SmartFTP allows you to connect to multiple servers and supports IPv6 connection protocol. It uses the "Drag and Drop" technology, thanks to which you can easily move and copy files from Windows Explorer to any server. It is also worth mentioning the rich list of supported FTP servers. The software uses memory caching, which speeds up the work with servers.
Key features offered include:
encryption function;
ipv6 support;
support for UTF-8 encoding;
file compression on the fly;
support for the FXP protocol;
checking the integrity and compliance of the transmitted data;
the ability to connect via frewall.
SmartFTP allows the user to create a Favorites list, offers the function of copying files using the drag and drop option. It can also support multiple connections at the same time and allows you to schedule tasks and much more.
In addition, this client supports SOCKS5, SOCKS4, Winproxy or WinGate proxies, has a built-in editor and a built-in terminal for establishing a connection, for example, SSH.
Important!
The program is available in a trial version, and it can be used free of charge with 30 days.
After installation and launch, the FTP client will offer to download the necessary language module.
The advantages of SmartFTP include support for multiple connections at the same time, including with SFTP servers using the SSH protocol, which guarantees secure data transfer and the ability to edit files "directly" on the server. SmartFTP also offers a useful thumbnail viewer and extremely useful sending emails with error messages or when the file transfer is completed.
Experienced users will appreciate the interesting and rich functionality of SmartFTP.
19-06-2020, 06:17