FileZilla - file sharing via FTP, SFTP and FTPS
Latest version: Windows: 3.58.0 / 3.8.0 Server 1.3.0 | macOS: 3.58.0 / 3.8.0 Server 1.3.0 |

Report a new version of the program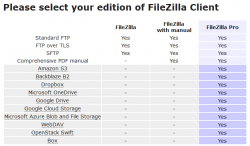 Edited news: 16-02-2022, 07:44

Reason: Updates for Windows and macOS.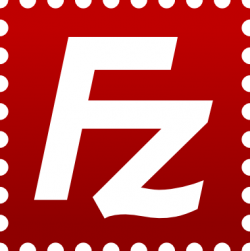 FileZilla is a free cross-platform program that allows you to transfer files between the local computer and the remote server using the FTP, SFTP and FTPS protocols. The program is available in 47 languages.
FileZilla is developed in 2 versions that can be installed on the same computer:
client - to open the file manager in the server;
server - to create a session and connect a client.
FTP connection allows data exchange between the hard drive of the local computer and the remote server of the hosting provider. The FileZilla system is controlled according to the same scenario as Windows Explorer: files are copied / moved by simple dragging and dropping with the mouse arrow or through the context menu. In addition, when working with the program, you can directly edit, update, delete and configure site / sites files on a remote server directly from the desktop of a personal computer.
FileZilla's dynamic tools help you perform other tasks:
rename, change / adjust access levels, especially if the server is shared with someone;
apply login, which makes it very easy to determine the latest changes on the server, as well as solving problems associated with uploading any files to the host or innovations;
set unique file filtering to filter out inappropriate ones and select the ones that correspond to the specified parameters (images, configuration files, etc.);
to compare files and directories to avoid omissions or duplication when downloading to the host, as well as to easily calculate and delete "extra files" - viruses.
To avoid the same viruses, you must install FileZilla from the official website of the developer. The program is free, distributed under the GNU (General Public License) and is available for download in several versions:
installer on a computer disk;
archive for portable use. For example, unpacked on a USB flash drive, the FTP client will always be configured and ready to work with the site on any computer;
program source code (for developers and programmers).
Detailed instructions are also posted on the developer's website. For example, to upload a site to a remote server, the blogger does not require the knowledge of a webmaster, since these settings are entered into the program by default. FileZilla runs on Windows, macOS and Linux; it is also possible to install on a flash drive (Portable version).
There is a fully commercial version of FileZilla Pro that allows you to connect and share files with Amazon S3, Backblaze B2, Dropbox, Google Cloud Storage, Google Drive, Microsoft Azure, Microsoft OneDrive, Microsoft OneDrive for Business, Microsoft SharePoint, OpenStack Swift and WebDAV. The cost of the Pro version at the time of writing is $ 19.99. Purchasing FileZilla Pro is a good way to support the developer if you like this program.
13-09-2019, 03:26