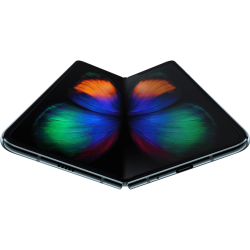 The large company Samsung, which is rapidly improving its technology, has introduced a completely new smartphone to the attention of consumers. Such a novelty will be interesting to absolutely everyone. In addition to the fact that this model has excellent technical characteristics, this smartphone has a special perfection. Samsung has created a phone that can transform into a tablet. This magic happens due to a special screen that can bend in half.
The high-tech smartphone Samsung Galaxy Fold made a big splash and attracted attention in all corners of the world. And this is justified, since the emotions of using this model are unforgettable. Manufacturers of other smartphones claimed that it was difficult to impress potential buyers, and to do so was almost impossible. However, Samsung completely refuted this judgment and released an unusual novelty.
The display size of the new Samsung Galaxy Fold in the state of the phone is 4.6 inches. When the display opens, its total size becomes 7.3 inches. Many dubbed this model a telephone from the future. In addition to flexibility, the screen also has impressive picture quality. The Galaxy Fold screen is equipped with an AMOLED matrix that provides perfect color reproduction. Also, this matrix allows the owner to observe high color contrasts without distortion. There is a special film on the phone's display, which is designed to protect the modern model. The manufacturer warns that removing this film is strictly prohibited.
The manufacturer announced that the new product is designed for 200,000 bends and extensions. According to rough estimates, the smartphone is designed for 5 years of constant use.
Read more