Adobe Reader - a program for viewing, comments and printing files in PDF
Latest version: Windows: DC 2021.011.20039 | Android: xapk 22.1.1.21006 / apk 22.1.0.20999 | macOS: DC 2021.011.20039 / 10.1 | iOS: 22.01.02 |

Report a new version of the program






Edited news: 16-02-2022, 07:02

Reason: Versions update for Android (apk) and iOS. Added xapk version for android.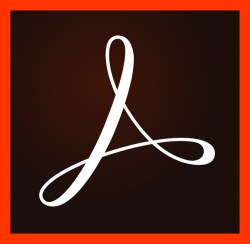 Adobe Reader is a freeware program for viewing, commenting and printing PDF (Portable Document Format) files. The PDF format is a cross-platform universal document format that is supported by all existing modern systems. It was originally created by Adobe Systems for the transfer of printed products. Currently, this format has become a generally accepted standard for the transfer of documents, this format produces various manuals and references, e-books, magazines, booklets and much more. The main advantage of the PDF format is that on any device the content and structure of the document will be displayed in the same way as on the device on which it was created. Therefore, any user just needs a program to read this format.
Adobe Reader is a powerful program for working with PDF format. It provides the user with the following main functions: reading, copying, highlighting the desired fragments, zoom (zoom in / out), printing, changing the page orientation and much more. It is also important to have a plug-in (additional module) that allows you to work with PDF files directly in a web browser. The program is translated into many languages, so any user can deal with its capabilities. This also contributes to the intuitive interface, allowing for a few minutes to understand how it works. Adobe Scan is available for mobile devices on iOS and Android - converting photographs of documents into high-quality PDF files using artificial intelligence technology and automatic text recognition. In addition, after a simple free registration, the user is provided with additional functions:
File storage in the Adobe Document Cloud (2 GB is provided free of charge).
Convenient tool Fill & Sign allows you to quickly fill out forms through easy access to your personal record set to automatically fill out fields. Auto complete is available on the desktop, in the web browser and on the iPad.
4-08-2019, 14:25