Adobe Photoshop CC multifunctional image editor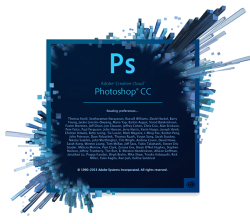 Adobe Photoshop CC is a multifunctional graphics editor released by Adobe Systems in 2014. This is a great assistant in translating ideas. Create and modify photos, 3D objects, process images, design mobile applications and websites, edit videos and model live pictures. All ideas will become a reality. Many photographers, designers and artists choose this program to create their work. It is suitable for everyday editing, as well as for creating unusual projects that completely transform the source material.
The main purpose of the program is to work with photo and video materials. With its help, it is possible to both edit an existing image and create a new one. Product features include: color correction, graphics transformation, retouching, deleting objects, restoring old pictures, animation, collage, visual effects and other processing options.
Compared to other versions of the program, Adobe Photoshop CC has several advantages:
New functionality for working with 3D and the ability to save files in 3MF format.
Convenient media management.
Background autosave with automatic recovery.
Improved touch pen function.
New tools have been added, including Smart Sharpness.
Increased productivity.
Improved the function of saving details when resizing an image.
Added the ability to create a portfolio and demonstrate it on Internet platforms.
For those wishing to work in this program, it is important to note that it has a trial license. The program includes a free trial period (7 days), after which you need to purchase a license. For individual users, the following conditions for acquiring a license exist: the price for a year of using the program with full prepayment will be $ 278.45; a month of work in this program will cost $ 36.55. There is also the possibility of acquiring a license for a year, but with a monthly payment of $ 24.36. All prices are inclusive of VAT. To date, Photoshop CC is available on macOS, Windows.
15-09-2019, 01:38