IZArc - easy to use archiver
Latest version: Windows: 4.5 | iOS: 1.4 |

Report a new version of the program




Edited news: 16-02-2022, 08:37

Reason: Windows version update.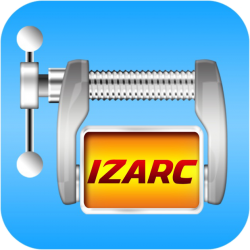 IZArc is extremely easy to use!
To open the archive, simply double-click (or, if you are working in web-style, click once) on the archive specified in "My Computer" or in Windows Explorer, drag the archive to IZArc or use the standard "Open" dialog box. The main IZArc window contains a list with the names and sizes of all files in the open archive. This list can be scrolled and sorted by any field. A customizable toolbar provides quick access to frequently used actions. Extensive context-sensitive help is always available.
The Windows Drag and Drop interface is fully supported - you can drag and drop files from IZArc to other applications or simply to Windows Explorer to extract them to a specific directory. IZArc will extract the files before placing them in the target application. The destination application will process the files as if they were deleted from My Computer or from Windows Explorer. You can also delete archives in IZArc to open them, or delete files in IZArc to add them to an open or new archive.
The main advantages and features of the program:
create an archive;
Add files to an existing archive
Extract files from an existing archive
check archive file;
convert archive;
convert CD images;
repair damaged archive;
search for any files in many archives;
obtaining a detailed list of files and information, such as compression ratio, path or size, from an archive file;
supports both long and short 8.3 file names;
implementation of the ability to sort list items by size, name, date, etc .;
full support for Drag & Drop;
support for CD / DVD images (ISO, BIN, MDF, NRG, IMG, C2D, PDI, CDI);
Windows Explorer integration into the context menu;
automatic installation of most programs distributed in archive files;
add / view comments in archives;
double-clicking on a file in the list opens it using the program associated with this type of file;
function CheckOut;
create yourself - extract the archive;
sending archive by email;
virus scan function;
UU / XX / MIME encoding / decoding;
create a multi-volume set;
Combine multi-volume set into UnSFX (convert self-extracting (SFX) .EXE files to standard archives). Encrypt files using Rijandael - AES (256-bit) encryption;
zip encryption (compatible with WinZip 9);
BZip compression for ZIP archives;
decryption (.ize) files;
Scan archives and files from archives using VirusTotal.
22-10-2019, 03:22