Google Chrome - the benchmark for quality and convenience among browsers
Latest version: Windows: 98.0.4758.102 | Android: apk - 98.0.4758.101 / xapk 98.0.4758.101 | macOS: 98.0.4758.102 | iOS: 98.0.4758.97 |

Report a new version of the program






Edited news: 16-02-2022, 05:13

Reason: Version updates for Windows, Android, iOS and macOS.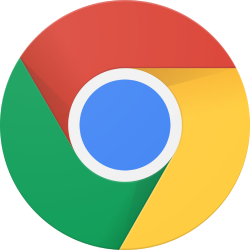 Google Chrome is perhaps the most popular browser to date. The product of the search giant Google, Chrome is the benchmark for quality and convenience among browsers.
"Chrome" begins its existence in 2008, immediately gaining popularity due to innovative technologies and speed of work. Users quickly fell in love with the browser for its beautiful design, performance, many features and many settings, which at that time far from every browser could boast. Google Chrome and today occupies a leading position in the list of Internet browsers. Here are the main reasons for its popularity:
Performance. Chrome is one of the fastest and most current browsers. Together with the Google search engine, the browser allows you to quickly find information of interest to the user or the website, create a search query, find out the weather or the exchange rate for today right in the search box.
Convenience. Google Chrome allows the user to work with several tabs at once, drag them between different windows, switch between them and various functions with the help of hot keys and much more.
Cross platform. The user of Chrome can synchronize between multiple devices, accessing the history, saved accounts and passwords from any gadget. Google Chrome apps are available for Android, Windows and Windows Phone devices, Apple products, Linux and its distributions.
Import settings. In "Chrome" you can import settings from other browsers, after which the user will receive the same bookmarks, browsing history, start page and much more.
Update and support. Google Chrome browser is constantly updated and improved. The browser periodically installs the latest updates in the background, and in case of technical problems, the user can send an error report and receive prompt assistance.
Extensions. Extensions add new features to the browser, making it more convenient to use. Chrome is provided with a huge number of extensions for any requests, be it a utility for screenshots, blocking pop-up ads, or even saving video and audio from sites. Each user can add the features that are needed to him.
1-08-2019, 13:53