Telegram - positions itself as the safest and most secure of messengers
Latest version: Windows: X64 - 3.5.1 / X32 - 3.5.1 | Android: 8.5.4 | macOS: 3.5.1 | iOS: 8.5.1 | Windows Phone: 3.4

Report a new version of the program







Edited news: 19-02-2022, 08:23

Reason: Android version update.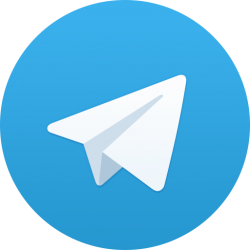 Telegram is one of the most popular instant messengers today. Telegrams allow users to instantly exchange many types of messages and files in real time. Created by Pavel Durov, the creator of VKontakte, Telegram positions itself as the safest and most protected of instant messengers.
Telegram appeared at the moment when another popular WhatsApp messenger could differ only by constant data leaks and user personal information. Fast and reliable, the Telegram has become an excellent alternative. The new messenger had the opportunity to create conferences for several users, exchange geodata, files of any formats. Messages were encrypted, and an open API was provided for developers. In short terms, Telegram has become the number one messenger and every day attracts more and more users.
Another strong point of Telegram is its cross-platform nature. At the moment, applications for Android, Windows and Windows Phone, Apple products, Linux distributions and even a browser-based online version are released and constantly updated. Synchronization and access to messages for several devices is available, and the interface itself in each one in different versions of the application is almost the same.
Telegram also boasts a quality design. It is simple and concise, intuitive to every user. Light and dark light themes are available, the user can also set one of the built-in chat backgrounds or download his own. The wide possibilities of setting up the application allow anyone to tailor the Telegram exactly for themselves and use it with pleasure.
For lovers, not only to chat, but also to read news from around the world, to gain new knowledge in any professional sphere, or simply to have fun, there are channels. These are, in fact, blogs / chats with the function of sending to a large number of users subscribed to them. Also, for the promotion of goods and services or regular distribution there are bots - programs that perform certain actions with which the user communicates using certain commands.
Telegram today is the leader in messaging services, gaining more and more influence and market among mobile applications. Fast, convenient, without advertising, Telegram has become today the choice of a person who cares about his convenience and privacy on the Internet.
18-07-2019, 12:04