Google Docs - a server for editing documents
Latest version: Android: 1.21.242.07.72 - xapk / 1.21.242.07.45 - apk | iOS: 1.2021.24203 |

Report a new version of the program




Edited news: 6-07-2021, 01:46

Reason: Updating .xapk and .apk versions for Android and iOS devices.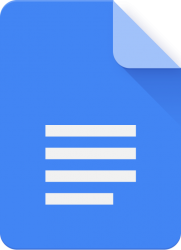 Now a lot of text editors have been developed, but this article will focus on the Google Docs document editing server. The utility provided by Google is completely free. The functionality of the program is fully open to the user. Even because the program is free, there is no advertising in it, and this is a huge plus.
Google Docs has a large set for editing text, highlighting some areas using markers, as in a notebook. The user is given unlimited access to all the fonts that are presented in the application. In addition, you can easily insert hyperlinks and photos, create your own drawings and tables.
It is worth noting that the program provides offline access to documents. That is, the user can work and modify their documents without connecting to the Internet. Most recently, many application developers have begun to add a special feature to their applications. Surely many have heard of her.
Google Docs is a special server that you connect to through your Google Account. In the utility itself, you can choose who you want to grant access to only yourself or some users, and select them. After that, your document can be edited by those to whom you have allowed access. This is a very useful feature. Especially when users should work in a team - they do not have to once again send a file to each other.
Speaking about the interface itself, it's easy to figure it out. Everything is visible and not hidden from view. In some ways, the interface is similar to Word. Therefore, many will be comfortable working with him. Another plus and useful feature is the autosave of the project. Sometimes the computer may reboot on its own and not save the file when working in text editors. Google Docs also provided for this. The utility automatically saves the file every time it changes, but the program does not freeze.
Not all text editors provide for combination with other text file formats. Very often we cannot open them in our editor. But the database of formats in Google Docs is quite large, it is unlikely that there will be a file format that is not in this database, because it is constantly updated.
25-10-2019, 06:52