LibreOffice - free office suite
Latest version: Windows: 7.3.0 | macOS: 7.3.0 | Linux: deb 7.3.0 / rpm 7.3.0 |

Report a new version of the program





Edited news: 16-02-2022, 15:55

Reason: Updates for Windows and macOS. Added versions for Linux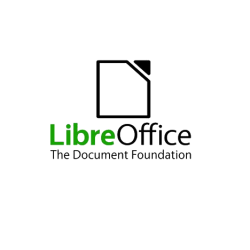 LibreOffice is a completely free office suite that is a great alternative to paid Microsoft Office. Thanks to the applications contained in it, the user can create and edit text documents, spreadsheets, presentations and databases. Its great advantage is its relatively high compatibility with Office files, so they can be opened and modified without losing information.
Thanks to the programs included in the LibreOffice package, you can create simple documents, such as cover letters or resumes, as well as all theses. He is also not afraid of calculations, making accounting easier. Thanks to the open license, the package can also be used in the company without any additional fees. The documents that he creates are the current standard of public administration. In addition, they are compatible with Microsoft Office and Office files for Mac OS X. Experienced users will also find application for it thanks to the support of VBA and OpenCL. The package includes the following applications:
An excellent word processor, suitable even for professional applications. This editor has all the functions in this area: you can insert graphics, tables and charts into a document. Style sheets are available to the user. Writer supports merging letters, has an extensive dictionary in which you can insert new words. When entering a text editor offers to continue, which can significantly increase the speed of text input. Writer also has a rich list of templates that make it easier and faster to create effective documents. Extensive text formatting and indexing features that are not inferior to Word.
Extensive, easy to use table. Thanks to this, the user will do a lot of calculations using a computer, especially since the rules can be entered in a supported language. The sheet provides, among other things, automatic transfer in euros, calculation of tariffs based on current data downloaded from the Internet, as well as the ability to create your own functions.
A tool for creating presentations, which provides ample opportunities and many easy-to-use tools: text blocks, graphics, ready-made templates, as well as animation support. The program also allows you to create 3D presentations, provides support for raster and vector graphics. The tool allows you to create executable files to open any office suite, and supports the format used by PowerPoint. An added benefit is the ability to create presentations in the Macromedia Flash format.
Thanks to the Draw program, the user can create almost any illustrations and effects that add value to documents created using the LibreOffice package. This is an application that offers the user ample opportunities for processing objects, editing the gradient, managing transparency, photo-realistic rendering of textures, lighting effects, perspectives, transparency and even the shapes of three-dimensional objects. Additional benefits include support for converting a raster to vectors, scaling on grids and guides, stretching text along lines, and creating Bezier curves. Draw allows you to use the capabilities of OpenGL.
24-11-2019, 09:07