PDF24 Creator - A Free Tool for Quickly Creating PDF Files
Latest version: Windows: 10.8.0 - only for Windows 10 and newer / 9.2.2 - for older versions of Windows |

Report a new version of the program



Edited news: 16-02-2022, 08:30

Reason: Version update for Windows 10 and newer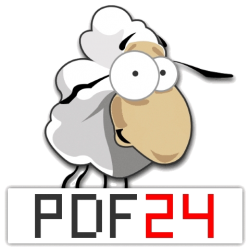 PDF24 Creator is a tool that provides the ability to easily and quickly create PDF files. It has a wide range of application functions. For example, a program can easily transfer a picture or image to a document. In addition, you can combine PDF documents or copy some pages from them, share them, print using a printer (virtual). For example, you can specify who the author, compiler, producer is. It is worth remembering about the excellent ability to protect with a password, which in turn will prevent unauthorized access. This function will be indispensable when publishing a document on the Internet or when several people use a computer. PDF24 Creator is a product that does not require payment, a powerful system, and is also very easy to use.
Main advantages and disadvantages
Benefits:
Password protection.
Ability to change the properties of any PDF files, for example, author, manufacturer.
Virtual printer functionality.
Ability to share PDF files.
Editing almost any file format.
Easy to learn and intuitive tool interface.
A completely free and popular product on the market.
Minimum computer resource requirements.
Compatible with any version of the Windows operating system older than XP.
Disadvantages:
Closed source.
No version for portable devices.
Using the program's functionality, you will also have the opportunity to save documents and files in new formats. In the old version, PDF24 was able to save documents exclusively in PDF, and in the new one, it was possible to save in formats such as PDF, PS, EPS, PCL, PNG, JPEG, BMP. Many of the formats listed are photographs as well as types of images.
PDF24 includes a tool to convert images and documents to PDF. To convert them, you must run the so-called "creator", directly transfer the document itself from the (built-in) search system to a special part of the window on the right side. After that they will be converted. As can be seen from this example, ease of use is one of the key features of this program.
Below are the links where you can download this tool. It is free and will present a wide range of opportunities in your work.
14-10-2019, 09:43