qBittorrent - free torrent client without ads
Latest version: Windows: 4.4.1 | macOS: 4.3.9 |

Report a new version of the program




Edited news: 16-02-2022, 08:08

Reason: Updating versions for Windows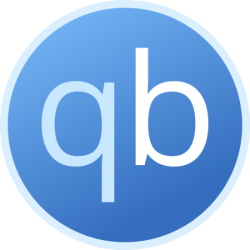 qBittorrent is a multi-platform torrent client that is gaining more fans every day.
Let's start with the main advantage of the application: qBittorrent is freely available with a free license, that is, you do not need to pay a penny to use all the program features.
The second big plus of this torrent client is the complete lack of advertising.
Thirdly, one cannot fail to note the convenient, minimalistic, and most importantly, the extremely understandable interface for any user, regardless of whether he has previously used torrent clients and how active.
Installing the program is extremely simple, does not require any special skills from the user. Most installation settings are set by default, the only action requiring user activity is selecting a folder for downloading future torrents.
On the left in the main window there is a block panel in which you can track the status of downloads, the main area is occupied by information about the actual torrents. For those who do not need a panel with general information, you can easily hide it and reduce the program window to save screen space.
Download parameters (file size, number of distributing and downloading users, speed, etc.) can be seen at the bottom of the screen.
The interface is friendly, the settings allow you to personalize the work with the program as much as possible, choosing those functions and features that are important for you.
qBittorrent also has some very convenient "tricks":
the ability to preview the downloaded file. It appears after downloading only a few percent of the file, that is, there is no need to wait for the full download, you can view the file at the same time as it is being downloaded;
function "search engine". It combines the search results of any content on all the most popular sites into a list in a single window. In this case, the user himself can choose which sites the program should browse during the search.
The program is available for different versions of Windows and macOS, all links are collected on one page.
26-09-2019, 02:09