KMPlayer - convenient audio and video player
Latest version: Windows: 4.2.2.61 / 2022.1.27.13 | Android: 42.02.140 / VR 0.1.12 | macOS: 0.3.2 | iOS: 32.01.070 |

Report a new version of the program






Edited news: 16-02-2022, 06:42

Reason: Android version update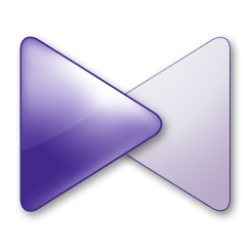 The KMPlayer is a convenient audio and video player with which you can watch movies, clips and indeed any videos on any device. Supported on Microsoft Window, macOS, Android, iOS. This application supports almost all multimedia formats from existing ones. For example: FLV, DVD, ASF, VCD, MKV, OGM, AVS, 3GP and others.
Many on the device already have a built-in video player, but, unlike KMPlayer, it does not have all the necessary codecs installed, so various errors often occur. In addition, in this application there are still many different functions and features.
And its main features are clear and simple interface for the application, so that everyone can figure it out. On the main screen for comfort displayed a minimum of basic control buttons. It is also possible to change the color when creating a new track.
KMPlayer has all the necessary functions for watching movies and audio:
Display subtitles on the screen, 3D playback;
Ultra-high-definition video playback in 4K, 8K, Ultra High Definition, 60 FPS;
Reading damaged or "broken" files;
Ability to play a certain piece of material (You can set the starting and ending point);
Supports many different types of output devices;
Supports 23 languages, handles speech.
There are also more in-depth video and audio features:
Adjust sharpness and blur;
Post-processing - improves the quality, however, increases the load on the processor;
Consistent and surround noise reduction;
Level management;
Ability to convert 2D to 3D.
Automatic sound normalization — equalizes the volume of the audio signal.
Therefore, if you are a fan of watching videos on your computer or phone comfortably, feel free to download KMPlayer. It is free.
4-08-2019, 14:10