SketchUp is a project development and modeling environment
Latest version: Windows: SketchUp Viewer 22.0.316.108 / SketchUp Make 32bit - 16.1.1450 / 64bit - 17.2.2555 / SketchUp Pro 2021 21.1.332 / Google SketchUp 8.0.15158 | Android: SketchUp Viewer 5.4.8 | macOS: SketchUp Viewer 22.0.315.108 / SketchUp Make - 16.0.19911 | iOS: SketchUp Viewer 5.4.8 |

Report a new version of the program






Edited news: 4-02-2022, 06:51

Reason: Updated version of SketchUp Viewer for Windows and macOS. Updated SketchUp Pro for Windows.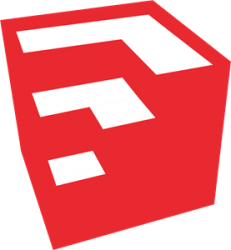 SketchUp is a software package that is an environment for project development and modeling.
Application
SketchUp is used for modeling and creating projects in the following industries:
design of architectural projects;
design of interior and exterior design;
development of models in woodworking;
three-dimensional modeling;
development of landscape design;
urban planning;
design of furniture models.
Opportunities
SketchUp is created by professionals for professionals and considers the needs that arise during the development of large commercial projects. The following options are available to users:
Documenting a project developed in 3D format in a two-dimensional format for the possibility of paperwork.
Ample opportunities for organizing teamwork.
The presence of many extensions, which contributes to the constant increase in the capabilities of the program and the user.
Access to external data sources, so that projects created in SketchUp will always have the highest quality appearance.
The capabilities of the application assume widespread use of mobile communications, there is a full-fledged mobile version. SketchUp is also adapted for use in conjunction with augmented reality headsets, which opens absolutely fantastic opportunities for developers.
For whom?
SketchUp is primarily intended for professionals in the design, architectural design, interior and exterior design. Also, the program has gained significant popularity among manufacturers and developers of furniture, 3D models.
How much is?
Distribution of SketchUp is available in several versions for different categories of users:
For professional use - assumes that the software product is purchased for commercial use and is distributed in three versions:
SketchUpShop - $ 119 per year;
SketchUpPro— $ 299 per year;
SketchUpStudio - $ 1199 per year.
The version of the program for personal use assumes the following tariff plans:
SketchUp - FREE is a free version that only uses a web application.
SketchUpShop - $ 119 per year;
SketchUpPro - $ 299 per year;
There is also a special pricing plan for students and university professors for $ 55 a year.
You can find out more about the prices and compare tariff plans on the official website.
17-02-2021, 01:36