Latest version: Windows: Creative Cloud | macOS: Creative Cloud | Report a new version of the program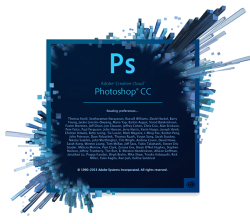 Adobe Photoshop CC is a multifunctional graphics editor released by Adobe Systems in 2014. This is a great assistant in translating ideas. Create and modify photos, 3D objects, process images, design mobile applications and websites, edit videos and model live pictures. All ideas will become a reality. Many photographers, designers and artists choose this program to create their work. It is suitable for everyday editing, as well as for creating unusual projects that completely transform the source material.
The main purpose of the program is to work with photo and video materials. With its help, it is possible to both edit an existing image and create a new one. Product features include: color correction, graphics transformation, retouching, deleting objects, restoring old pictures, animation, collage, visual effects and other processing options.
Read more