Opera - one of the flagships in the world of browsers
Latest version: Windows: 83.0.4254.54 / Opera Hybrid 35.0.2066.37 / Opera GX 83.0.4254.46 | Android: 67.1.3508.63168 / Opera Mini .xapk 62.2.2254.60938 .apk 62.1.2254.60552 / Opera Touch apk 2.9.6_151 / Opera Touch xapk - 2.9.6 | macOS: 83.0.4254.54 / Opera GX 83.0.4254.46 | Windows Phone: 9.1.0.232

Report a new version of the program






























Edited news: 10-02-2022, 04:09

Reason: Regular version update for Windows and macOS. Adding .xapk version of opera mini for Android.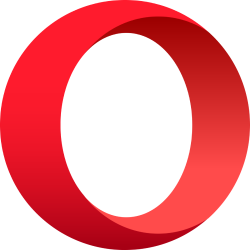 Since the Internet appeared, software has emerged to enter the world wide web. The first browsers were not at all the way we see them now - bright, fast, multi-tasking, with intelligent search and other features. They were primitive and extremely leisurely by today's standards. However, the essence remains the same: if you want to find something on the Internet, open a browser and enter your request into the address bar.
Opera is one of the flagships in the browser world. The first version of this browser was created in 1995 and even then, it favorably differed from other browsers by the ability to view several documents simultaneously.
At first, this browser was available only for Windows and distributed shareware, that is, in fact, for a fee. Over time, the license payment was partially removed, replacing it with the display of advertising to the user. If the user did not want to watch ads, he could pay for the licensed version of the browser. It was a distant year 2000 and AdBlock has not yet been developed. Such a system lasted until 2005, and after the payment of the license was completely canceled. Opera has officially become a free ad-free browser.
Support for Unicode, however, was added much earlier, in version 6 (in 2001), and version 7 was already fully available for MacOS users.
Initially, new versions were released every 6-12 months, but like a wheel moving downhill, Opera developers accelerated and accelerated, introducing updates to users more and more. Despite the tremendous progress in the development of the browser, Opera Mobile still does not support all OSes for smartphones. This is slightly offset by the fact that most modern smartphones interact perfectly with Opera Mini. There are also versions of this browser for game consoles, consoles and other devices that have access to the Internet.
In addition, in the best tradition of geeks, some versions of Opera had (and have) so-called "Easter eggs" or "Easter eggs", like the Konami code. You can read more about this in open sources and forums.
14-07-2019, 01:43