FlashFXP - FTP / FTPS / SFTP client for Windows
Latest version: Windows: 5.4.0 build 3970 |

Report a new version of the program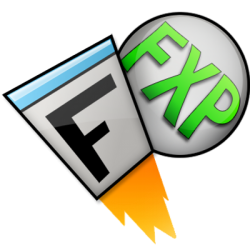 FlashFXP Utility is a reliable, secure and efficient FTP / FTPS / SFTP client for Windows. The program can be used to administer sites, upload / download files to a server, or exchange files between servers. The client is compatible with all current versions of Windows.
The software has a wide range of functions for setting up client configuration. File sharing requires an installed FTP or SFTP server. The program has a multilingual interface (20 languages). FlashFXP has a standard, portable and U3 version of Smart Drive.
License Features
The program is commercial and is priced at 29.95 USD. There is a trial version of FlashFXP, free of charge for 30 days. The program license can be personal or business. A personal license allows you to use the utility for non-commercial purposes on 4 devices, including mobile. A business license is divided into the following types:
user;
device;
website;
server.
It allows you to use FlashFXP in a corporate, government or business environment.
Performance
In the latest version, developers offer a whole set of improvements:
High performance when transferring files.
Stream data compression (Mode Z).
Limiting the speed of downloading and uploading files.
Support for quick directory browsing to improve performance.
Improved handling of transferring multiple small files.
Safety
Among the security features, the following should be noted:
Secure FTP connection (FTPS) support using SSL / TLS.
Support for the new SSH data transfer protocol (SFTP).
S / Key password encryption.
SSL Site-to-Site (SSCN) SSL transmission mode support.
Direct Command Mode (CCC) support for SSL / TLS FTP connections.
Certificate verification through the Windows certificate store.
Connectivity options
FlashFXP software supports the following modes of operation:
FTP client
FTPS client;
SFTP client;
active and passive transmission modes;
HTTP and FTP Proxies;
SOCKS 4/5 Proxies (including support for active transfer mode);
firewall support;
fully recursive file sharing;
cross-site data exchange (FXP).
As well as many other features, including scheduled transmission and support for automatic PRET connections.
Using the program will not cause difficulties: the classic Windows Explorer Explorer interface, support for the Drag & Drop function, directory labels and other functions greatly simplify working with FlashFXP.
6-07-2020, 02:53