Classic FTP - simple client
Latest version: Windows: 4.05+ | macOS: 4.03 |

Report a new version of the program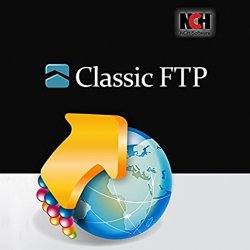 Classic FTP is an easy to use, free ftp dual-panel client. Thanks to it, you can view the file, edit it, upload it to the server, download from the server, delete the file from the remote server (site). The name of the client corresponds to its characteristics, this is the most common ftp-client.
This client has the same functions as others, but it is easier to understand both experienced site administrators and beginners in site management. The program is completely free, and also has an easy-to-use interface, because of which you can download or edit a file much faster without spending too much time studying. But there is also a paid version of the program.
Very convenient tool "Mirror and Upload" in one click scans all files on the server or in the folders you select, uploads files to the folder you select. Also, with the help of the client, you can synchronize remote folders with local ones.
| | |
| --- | --- |
| Supports OS: | Windows 10, 8.1.8, 7, 98, XP, 2000, 2003 and Windows Vista. Mac OS X 10.5, etc. versions (works with 64-bit Windows) |
| Supported language: | English |
| Author: | NCH Software |
| License: | Shareware (there are paid analogues of this author, but differ in functions) |
Additional functions:
Secure FTP over SSL (FTPS) support
manual connection and disconnection from the site;
compatible with all working well-known FTP-servers;
saving the last access parameters (the client remembers the first password and login entered, after which it is not necessary to re-enter the login data);
there is a function to resume files;
file encryption;
search with filter;
access control to the server (separate setting of access rights and user modes);
rename files;
convenient help (you can read detailed instructions for each client function);
You can find out all the information about the downloaded or edited file (weight, download time, file format, etc.);
You can download a whole package of files right away.
Since the developer is constantly updating their programs, it is worthwhile to study in detail all the information about the client on the official website before downloading. If for some reason you cannot download the file or install it, contact support and they will help you at every step, as well as answer any question you may have.
30-06-2020, 03:48