VeryPDF PDF Editor - a program for working with PDF files
Latest version: Windows: 4.1 |

Report a new version of the program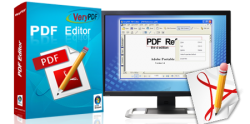 The PDF format is mainly intended for access to printing products on electronic devices. This, for example, digitized scanned books with illustrations. The format was developed by Adobe. VeryPDF PDF Editor is designed to view and modify such files. Two types of product are distinguished by types of computer software licenses: trial with limited time of use and commercial.
Program features
Switching from other formats to Portable Dokument Format. Create documents with this extension from the image on the clipboard.
Change textual, graphic information in a PDF file, work with hyperlinks, add comments. Combining multiple documents.
Transition from pdf to other extensions. Convert to more than 9 formats, including JPEG, PNG, TXT.
Simple and intuitive graphical interface. Users quickly learn all the features of the program.
The presence of a trial version.
Full viewing of files with the pdf extension. Convenient document orientation.
Filling out forms.
Online version.
Trial and commercial programs
The cost of the commercial version depends on the purposes for which it is purchased. There are varieties for individuals (personal use), for developers and the so-called additional "gold support" (for 1 year). The cost of the latter is $ 1200. The cost for individuals depends on the number of PCs on which the program will be installed. The license for "personal users" ranges from $ 49.95 to $ 89.95.
The VeryPDF PDF Editor OCX Control version is intended for commercial use. It already allows you to create applications. The program works with any printable files. It costs $ 2999. Trial versions are available for developers as well as for ordinary users, for which there is no charge.
The program runs on the Windows platform. Paying for "gold support", the client receives a specialist's priority answer to the question that has arisen throughout the year, a free update to the latest version, and remote troubleshooting.
Unlike guaranteed free technical assistance, communication with specialists can take place not only by e-mail. These are Skype, Webex and other means. Many customers buy gold support, although this is not necessary. The program developer agrees to implement those free support 5 days a week.
8-11-2019, 01:49