HaoZip is a free data compression program
Latest version: Windows: 6.3.1.11126 / 5.9.8 / 4.0 Eng / V3.0 Eng |

Report a new version of the program



Edited news: 31-01-2022, 07:20

Reason: Windows Version Upgrade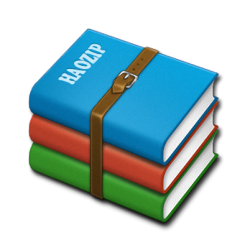 HaoZip is an interesting and completely free data compression program created by Chinese developers. It offers rich functionality, as well as support for almost 50 of the most popular archive formats, including RAR, ZIP, 7Z, ISO, IMG, TAR, DMG, ARJ, GZ, GZIP, TGZ, BZ2, BZIP2, TBZ2, DEB, JAR and many others.
The program has been developed since 2009, but only recently has it begun to gain momentum and gain an increasing number of users. The use of HaoZip in everyday work, in addition to being completely free, is also supported by a sophisticated user interface and a set of many useful and modern tools. In addition to the standard function of compressing and decompressing files, the program also allows you to create self-extracting archives, protect access to them with a password, check archives for errors, and restore them. In addition, the user also receives a tool for converting image files, combining MP3 files, creating MD5 checksums and an integrated graphical viewer.
Against the backdrop of competing solutions, HaoZip is characterized by high speed and performance. According to the creators, the program allows you to reduce the time of compression / decompression of files by up to 40% compared with competing software, which gives it an undeniable advantage over competitors. In turn, the built-in simple benchmark provides the ability to test a computer in terms of speed of compression and decompression, as well as the consumption of system resources.
As with programs from other manufacturers, HaoZip also allows you to assign supported files to each other and integrate with the context menu in Windows. Another advantage is the support of styles, thanks to which it is possible to customize the appearance of the interface in accordance with the preferences of a particular user, which in turn shows the customer focus of the developer and interest in promoting his product in the modern market.
The program is an excellent alternative to the free, as well as a good 7zip, but has a more pleasant interface. The program allows you to unpack a whole bunch of archives: from the usual zip, rar to files with extensions 001, 002, etc., img, iso images and many others. On the other hand, packaging can be done in two main formats: zip and 7z and in the less well-known tar.gz, lzh, gzip, tar and others.
Depending on the chosen algorithm, the program allows, in addition to standard parameters, creating a self-extracting sfx archive, setting a security password and testing. Returning to the sfx archives, the program provides them with many interesting options, including setting the title, icon, creating shortcuts and placing entries in the registry, as well as launching certain programs before and after unpacking.
20-10-2019, 04:19