FastStone Image Viewer - changes and converts images in Microsoft Windows
Latest version: Windows: 7.5 |

Report a new version of the program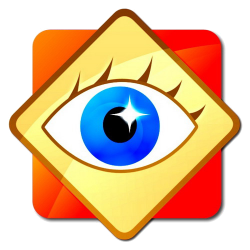 FastStone Image Viewer is a utility that allows you to view, modify and convert images in Microsoft Windows. The creator of this utility is FastStone Soft.
In the program's functionality, it's worth highlighting the possibility of color correction, drawing, setting watermarks for deleting / adding effects, retouching, etc. The user will be able to get rid of the red-eye effect in the photo, replace colors, resize the image, and convert it to another desired format. In addition, in the FastStone Image Viewer program, the user can use the tools to create slideshows. The program offers the user 150 transition options between slides. The utility also has the ability to group images for convenient storage on a computer.
The interface of the FastStone Image Viewer utility is simple and convenient. The main menu displays all the tools that the user may need to edit or convert images. The utility also provides the ability to compare the original version of the image and the variant with the new parameters in one active window, which is divided into two parts. Thanks to the preview function, the user can see changes in color quality, etc. in the edited file.
The FastStone Image Viewer program has a batch editing function that allows you to apply the settings you need to the user simultaneously to multiple images. And in comparison, mode, you can view up to 4 editable photos.
Changing the format and adding any graphic effects does not reduce the quality of images, which is a very important advantage of the utility. The FastStone Image Viewer can also work with images that were obtained from the scanner.
Among the formats that FastStone Image Viewer supports, you can find both the rare and the most popular: BMP, JPEG, JPEG 2000, GIF, PNG, PCX, TIFF, WMF, ICO and TGA. One of the features of the utility is the ability to not only view, but also change the files in the RAW format.
This utility is free for non-commercial use. Commercial use of the program involves the acquisition of a license worth $ 34.95.
24-09-2019, 01:46