iTunes is a free way to replenish or listen to your collection of files
Latest version: Windows: 12.12.2.2 | macOS: 12.8.3 |

Report a new version of the program




Edited news: 25-01-2022, 11:35

Reason: Updates for Windows and macOS.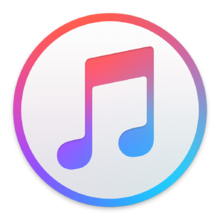 iTunes is a great and free way to replenish or listen to your collection of files. The program was created by Apple. iTunes is suitable for Windows and macOS platforms. The program was created to synchronize devices with a computer, to track devices, to store and transfer information to the phone.
But besides all this, iTunes has many other useful features. The most important purpose of this application is the exchange of data between a smartphone or other Apple gadgets and a computer. A very important addition is that the application finds the necessary and current versions of the software, and then updates the operating system. If you lose your Apple gadget, you can determine its location and, if necessary, lock the device. ITunes also has an online store that contains media files.
The program interface is simple and convenient. Anyone can figure it out, even intuitively. For the convenience of the user, the settings are located below and have several purposes: playlist control, album extraction, equalizer setting, visualization effect.
The program provides synchronization. In iTunes, conveniently sync files that are on your computer. Synchronization can be both automatic and manual. With manual synchronization, simply select the files or albums you want to delete or transfer.
But the iTunes functionality doesn't end there. The developers have created a backup Time Capsule. If you are concerned about the safety of your files, then this program is the perfect solution for you. iTunes copies content automatically without additional hardware to a backup drive.
The application also allows you to listen to the radio station. The menu has the option "Radio", there you can choose the channel you need from hundreds of stations, which in turn are divided into 26 genres. The streaming will start working when you double click on it. If you have installed a new version, then there are already radio stations that broadcast in MP3 format and a new high-quality format - AAC. If you can not find the desired radio station, you can add it to iTunes. To do this, simply add the URL of the station.
20-07-2019, 13:12