Electronic watches for men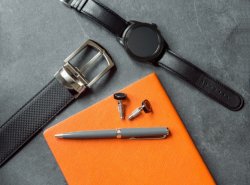 Every man can buy watches today that amaze with their functions and capabilities. The most popular watch models this year:
Amazfit Bip can run a full month or more on a single charge. They are distinguished by built-in GPS and an unusual transflective display, which allows you to see all the necessary information even in the dark. The watch supports all mobile operating systems. They are also equipped with the MiFit application, which is very convenient to use.
Another interesting watch model is the Casio G-SHOCK GST-B100-1A . This is a quartz watch of the classical type, which can also be classified as "smart". They have a regular dial, instead of the now traditional AMOLED screen. At the same time, the clock can be synchronized with Android and iOS devices, which is achieved through the use of Bluetooth technology. Also, the advantages of this model are the corporate appearance of the G-SHOCK, water resistance and the presence of a solar battery. The watch can work autonomously for several years. But there are no sensors for monitoring health during sports training.
The popular model of the Samsung Galaxy Watch with a silver case and a strap is equipped with a touch screen, which is made using Super AMOLED technology. The watch can be connected to devices based on Android and iOS. They have Wi-Fi, Bluetooth and an NFC chip. Thanks to the built-in memory, you can listen to music, which is especially useful when jogging or walking around the city. The IP68 protective coating protects the watch from dirt and water.
Model Fitbit Versa has a shockproof housing made of aluminum alloy. The presence of a moisture-proof coating allows you to safely take water procedures with your watch on your hand. The touch screen is backlit. Fitbit Versa watches are also equipped with sensors, such as a heart rate monitor and altimeter. They have already been appreciated by athletes, to whom the readings of the sensors during training help to control their health. The watch is based on Android, iOS and Windows. Each user of the watch will also be able to receive notification of incoming calls.
Apple Watch Series 4 features a large screen with a resolution of 324 x 394 pixels. This watch is equipped with a heart activity sensor, which is no longer in any electronic watch model. If necessary, the device itself can call an ambulance. There is also a place for placing a SIM card in the watch. In general, they can be attributed to premium models not only in appearance, but also in the materials used.
The watch model of the brand Huawei is distinguished by a concise appearance and high technology. The AMOLED screen of the watch is located in a plastic waterproof case with a durable glass. The watch is equipped with all kinds of sensors, including an altimeter. The user can learn about an incoming call from a special notification. The watch device is compatible with Android and iOS. The watch also allows you to play music using Bluetooth and, thanks to the NFC chip, make contactless payments.
The watch model Garmin Vivoactive looks very stylish and has a complete set of the most popular functions today. The watch is equipped with a durable steel case and a touch screen with mineral glass. The presence of sensors allows you to use this watch as a real fitness tracker. With NFC Vivoactive 3, you can make payments in a contactless way. The presence of a memory built into the watch allows you to turn this model into a player.
The watch model of Nokia Steel HR is distinguished by its impressive size and classic dial. This smart watch is equipped with an OLED screen, which receives telephone notifications. At the same time, the owner's pulse is displayed on it. The watch is compatible with Android and iOS. In this case, one battery charge lasts for 600 hours.
Model Asus VivoWatch is a waterproof watch made of stainless steel. The watch is complemented by a silicone bracelet. Their touch screen is covered with special Corning Gorilla glass, which is a reliable protection against various damages. The watch can be connected to devices based on Android and iOS. This allows you to receive notifications of incoming calls to your phone at any time. Also, all athletes are satisfied with the built-in heart rate monitor.
Suunto 9 Baro watches have a water resistance class of WR100, which allows you to use them while swimming without scuba gear. Also their advantage is scratch-resistant sapphire crystal and various sensors, including heart rate monitor, thermometer and navigation. The watch is based on Android and iOS.
28-08-2019, 12:54