Apple's iWork: Creative, Convenient, Unique
Latest version: macOS: iWork | iOS: iWork |

Report a new version of the program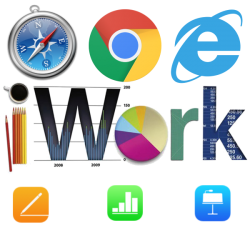 In 2015, iWork became available to all Apple users. The application is updated once a year: optimization is improved, the tools are replenished. iWork is in serious competition with Office PC products. Comfortable operation of the program is due to availability from anywhere in the world from any Apple device.
iWork runs on iOS, Mac, and iCloud.com. The main thing is to have a user account in iCloud, and then access to this application will open.
3 applications in one program
Keynote, Pages, and Numbers are feature-rich and enterprise-friendly applications that are components of iWork.
They are free, and you don't need to buy anything from the wealth of fonts, designs and animations. Applications also offer their designs that look more colorful than Microsoft product designs.
The interface of the three applications is not overloaded with unnecessary details and catchy design. Just expand the toolkit by clicking on the appropriate button. Nothing distracts from working with the document.
On the iPad, you can draw and write in a document using the Apple Pencil. This makes presentations, texts and tables unique.
Documents from applications can be sent to any messenger (including YouTube) and formatted into an Office document, Adobe Flash animation, PDF and all existing image formats.
Keynote creates colorful, informative presentations. Pages provides a creative approach to text. Numbers compose beautiful tables with precise, quick calculations. Tables are unique because they can be drawn and arranged in random order on a blank sheet.
A wide selection of fonts and color grading of letters decorate the document, making it vivid and memorable.
In each application, you can add sound: voice message, music, short sounds. Anyone who opens a document, even for editing, will hear the audio.
Corporate access to documents
Connecting to iCloud allows selected people to edit the document. Several people can work on the text in real time at once. All changes will be reflected in people who are working with the same document now.
In addition, the developers improved the comment system: they can be left next to changes in the document, as well as create discussions.
Collaboration is available in all three iWork applications.
18-11-2019, 03:00