Kerish Doctor - Windows System Optimization Tool
Latest version: Windows: 4.85 |

Report a new version of the program



Edited news: 1-02-2022, 15:57

Reason: Оновлено файл та дані по файлу на Virustotal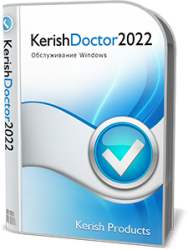 Kerish Doctor is a comprehensive service and optimization tool for Windows. It has a wide range of useful functions that allow you to fix common problems with the operating environment, clean up the computer of unnecessary files, and manage applications, services installed on the system, etc.
The program, thanks to the many features offered, can be called a combine for managing the Windows system. It offers an interesting tool for real-time detection and elimination of any problems with the environment and the software installed in it, as well as many dozens of other useful options. Among them, we will find those that will allow you to clean the Windows registry from unnecessary entries, delete all temporary files from the disk, completely clear the cache and all the files there, optimize system services, and also manipulate hidden Windows settings with and without administrator rights.
However, this is not a complete list of features offered by Kerish Doctor software. The user also receives tools for recovering lost data, accidentally or intentionally deleted files, optimizing the Internet connection, managing installed applications and programs running and working with the system. There is also the ability to completely delete files without the possibility of restoring them in any way, unlock locked data or manage system restore points.
The tool, despite many functions, can be recommended to all, even less experienced users. The options offered in it allow you to comprehensively manage various aspects of the computer, system or software from one level of the program.
Kerish Doctor is today one of the leaders among computer cleaning and optimization programs and never deletes files that Windows itself could use. Maybe paid is correct, but it is a very inexpensive solution, because a license worth $ 9.95 USD per year for a maximum of 3 computers offers many interesting and very useful features. Constant updates, communication between developers and users is the key to the success of this program in today's market.
25-11-2019, 01:21