Unique innovations presented by Samsung at CES 2020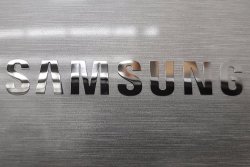 From January 7 to 10, a large-scale exhibition CES 2020 was held in Las Vegas, where unique technological developments were presented. This is the most anticipated event in the whole world, gathering annually about 200 thousand visitors. Many companies are eager to get to this event, so that all people know about the products presented. Samsung was no exception. It has been participating in this technology exhibition for many years and presents her customers unique products.
This year, the company presented not only advanced gadgets, but also other original solutions. Special attention was paid to visitors of the exhibition by a completely new development, which is designed to increase the level of usability of smartphones. Samsung presented SelfieType technology at the exhibition. It represents a unique concept of an invisible keyboard. This development is intended for mobile devices. The main feature of the invisible keyboard compared to others is that it does not need to use additional devices to operate it. In order to project the keyboard of a smartphone on any surface, you only need a selfie camera, which is equipped with any smartphone or tablet. Thanks to the camera, the movement of the hands is tracked, and text messages are entered.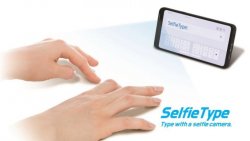 SelfieType developers are confident that this technology will make it easy to replace a regular keyboard with smartphone users. This is because this technology has many advantages:
any flat surface can turn into a full-size comfortable keyboard for typing;
the screen of a smartphone or tablet will become noticeably cleaner, since now you can safely reply to messages even while cooking or eating.
The developers demonstrated the principle of technology at CES due to a special algorithm that captures movements. After that, the data is processed and converted into keystrokes when typing. In previous such developments, it was necessary to install the projector in the casing of a mobile device that performs motion detection.
Currently, the unique keyboard provides only English input. However, Samsung claims that over time the list of print languages ​​will be expanded. It is also worth noting that the SelfieType technology is so far intended only for typing in instant messengers or text editors.
This technology was developed by the company as part of the world-famous C-Lab Inside project. In addition to the technology described above, several interesting new products were presented at the exhibition. Each of the inventions of this project is designed to provide a person with a more comfortable life.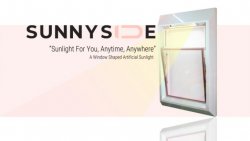 Samsung introduced its customers SunnySide. This device is a window that creates "the right sunlight." The developers managed to create a device that changes lighting, depending on the time of day. In addition, one of the main features of the "artificial window" is the production of vitamin D. Such a "window in the house" is especially necessary for those people who spend a lot of time indoors and receive very little sunlight. The operating principle of this device is very simple. The device in the form of a "window" is mounted on the wall. It can be installed in a frame for paintings, and then it will effectively complement the interior of any room. Samsung claims that the development of SunnySide will help consumers get all the beneficial properties of sunlight, protecting it from its dangerous effects. For example, using SunnySide, you cannot get sunburn. Also, the device does not have a negative effect on the skin.
In addition, a special development called Ultra V was presented at the exhibition, which is designed to prevent unnecessary exposure to ultraviolet rays on human skin. Thanks to this technology, each person can accurately track the amount of sunlight that falls on his skin. This development is designed to prevent the appearance of skin cancer due to excessive exposure to solar UV radiation.
At the CES 2020 technology exhibition, Samsung presented a device that will fight against baldness. Thanks to the Becom project, you can scan the scalp, and based on the study, provide truly high-quality treatment. A Hyler marker was introduced, which is capable of transferring selected text from paper to a smartphone. It should be noted one more development, which was presented by companies collaborating with Samsung. The piBo mini robot is specially designed for single people. The robot can conduct a long conversation, as well as inform about the weather outside the window.
13-01-2020, 00:32