BS.Player: Key Features
Latest version: Windows: 2.77 | Android: 3.13.234-20210704 |

Report a new version of the program




Edited news: 1-02-2022, 14:48

Reason: Windows version update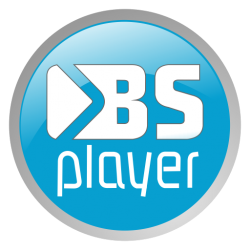 It is difficult to imagine any modern computer, laptop or other device without a media player installed. Multimedia files are firmly in use, used both for entertainment purposes, for rest and relaxation, and in the business sphere, among businessmen. Multimedia content is also used for the purpose of teaching, more often a foreign language, and more recently, other areas of study.
To play a variety of multimedia files, there are programs that allow you to play such data formats on your computer. One of the low-resource media utilities is the BS.Player program, which has proven itself among a wide range of users. The program performs all the necessary functions, namely:
supports existing media file formats;
processes text and video subtitles;
creates bookmarks for comfortable moving around the film;
splits the video stream into chapters;
allows you to take a screenshot of the screen.
In its work, the BS.Player media player consumes a small amount of system resources without overloading the processor and RAM of the computer. When installed on a computer, it will check the presence in the operating system of the codecs necessary for playing the audio and video stream, if they are missing, it will load it during the installation. The interface of the media player is simple and intuitive to operate, it is possible to personalize by selecting the theme and cover of the player.
The BS.Player program has the classification status of computer licensing of shareware, which implies some functional limitations in the work and the availability of a paid version of the software on the market. On official website of the BS.Player program at BSPlayer media can download a free software version for free or purchase a license for a fully functional PRO version of the utility, with an estimated price of 30EUR.
When installing the software on a computer, be more attentive to the default configuration. It provides for the installation together with a media player of additional programs, including advertising ones. If the presence of such programs is undesirable, then make the appropriate choice, clear the unnecessary check boxes.
17-11-2019, 11:37