Latest version: Windows: 2.77 | Android: 3.13.234-20210704 | Report a new version of the program
Edited news: 1-02-2022, 14:48

Reason: Windows version update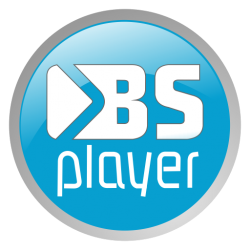 It is difficult to imagine any modern computer, laptop or other device without a media player installed. Multimedia files are firmly in use, used both for entertainment purposes, for rest and relaxation, and in the business sphere, among businessmen. Multimedia content is also used for the purpose of teaching, more often a foreign language, and more recently, other areas of study.
To play a variety of multimedia files, there are programs that allow you to play such data formats on your computer. One of the low-resource media utilities is the BS.Player program, which has proven itself among a wide range of users. The program performs all the necessary functions, namely:
supports existing media file formats;
processes text and video subtitles;
creates bookmarks for comfortable moving around the film;
splits the video stream into chapters;
allows you to take a screenshot of the screen.
Read more