AS SSD Benchmark - drive testing
Latest version: Windows: 2.0.7316.34247 |

Report a new version of the program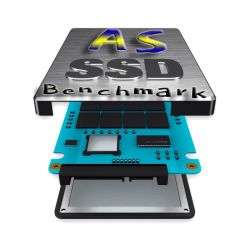 AS SSD Benchmark is an auxiliary computer program designed to test drives and measure their speed. The program was written by an ordinary enthusiast, it has proven itself both among ordinary users and among professionals. The program is completely free.
Developed a utility Alex Schepelyansky.
Features of AS SSD Benchmark:
Run tests marked in the utility.
Possibility to choose a test execution sequence (alternately and randomly).
There is a test that measures write or read access time.
| | |
| --- | --- |
| For which OS | Windows 10, 8, 8.1, 7, XP |
| What languages | English german |
| Category | NDD Utility - Diagnostics and Testing |
| License cost | Is free |
You do not need to use a cache to do media verification. The program is capable of reading or writing files no larger than 1 GB. There are also two additional tests, they check the behavior of the disk when copying several large files, when copying a large number of small-sized files, as well as a large number of files with different sizes (they use OS caching). It is possible to check for reading or writing data when they are compressed.
As already mentioned above, the utility can do performance tests with random or sequential reading (or writing) of SSDs. You do not need to use the operating system cache for these tests.
Among the functions of the program there is also Seq testing with time measurement when reading or writing a file of 1 GB in size. 4K test - this is the performance of the disk when checking different 4K blocks. 4K test and 4K-64 test differ only in the distribution of flows in the second case (on 64 branches).
As for the additional file compression test, this is a measurement of the power of the medium during data compression. This test is especially important for controllers, in which case it is done first.
Latest updates in the utility:
Supports NVMe SSD.
You can check the sectors of 4K LVA.
Mandatory presence of .NET Framework 4.6.
Increased rigorous testing of solid-state drives with high speed.
If you need to do a drive test, and you do not understand such programs, refer to the detailed instructions from the creator of the program, or ask to check the professionals.
2-07-2020, 03:34