HDD Low Level Format Tool - low level formatting tool
Latest version: Windows: 4.40 |

Report a new version of the program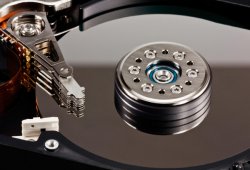 HDD Low Level Format Tool - a low-level formatting tool - this is a very useful tool that allows you to perform an operation called low-level formatting, that is, low-level formatting of disks, flash drives or memory cards. Low-level formatting is a function that is significantly different from conventional formatting, which can be performed, for example, on a selected partition in the system.
After using the HDD LLF low-level formatting tool, all data on the disk will be permanently deleted, and all partitions and entries in the MBR will be completely deleted. This means that after performing this operation, the user will lose all data on the disk, regardless of the partition. This tool will be useful both for deleting your data before selling a disc, and for repair. Often this operation allows you to restore non-working disks or flash drives that cannot be detected in the system or prevent the storage of any data (write protection error).
Despite the complexity level of the whole operation, low-level formatting with the HDD LLF tool is very simple, and the whole operation is reduced to an absolute minimum. After starting the program, the user must select a disk from the list that he wants to format, then go to the "Low Level Formatting" tab and click the format button. Depending on the size of the disk, this operation may take several minutes or several hours, therefore it is recommended to leave the computer turned on for the night.
Unlike traditional formatting, low-level formatting permanently deletes the contents of the hard drive. This method is usually used to remove a virus from the boot sector, which automatically spreads to your hard drive.
Key Features
Removal of persistent viruses: some viruses cannot be removed by antivirus programs. Moreover, often standard formatting does not remove these malicious applications. The final solution is low-level formatting. Nevertheless, you should think carefully before doing this step, because low-level formatting permanently deletes the stored data from the media, it is impossible to restore it.
The low-level formatting tool also fixes hard disk imperfections. It can be strange noises, lost clusters and a sudden increase in the number of bad sectors.
Compatibility
The program also supports disk controllers such as SATA, IDE, SCSI, USB, FireWire, and the following manufacturers: Maxtor, Hitachi, Seagate, Samsung, Toshiba, Fujitsu, IBM, Quantum, Western Digital, etc.
System and hardware requirements
Operating system: Windows 98, Windows 2000, Windows 2003, Windows 2008, Windows Vista and Windows 7, 8, 8.1, 10.
RAM: 256 MB.
Processor: Pentium 200 MHz.
Hard disk: 2 MB of free space.
License Terms:
Free for personal / home use (speed is limited to 180 GB per hour, which is 50 MB / s)
Just $ 3.30 for personal / home use (no speed limit).
$ 27.00 for commercial or professional use.
27-10-2019, 11:47