iMovie is a platform for working with video materials
Latest version: Android: iMovie for Android - 5.1.0 / IM Editor - iMovie video editor - 1.0 / IMO - iMovie Video Editor - 1.0 | macOS: 10.3.1 | iOS: 2.3.3 |

Report a new version of the program





Edited news: 30-11-2021, 00:59

Reason: Version update for macOS and iOS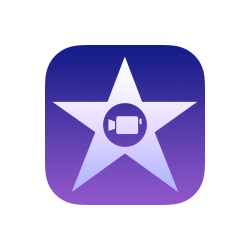 Now, in the age of advanced technology, there is a wide variety of programs, from running trackers to GPS tracking around the world.

Today we will learn about the iMovie program: what functions does this application imply, what is it for and what paid resources can you buy? Happy reading!
About the program
iMovie is a platform for working with video materials. The program is part of iLife, supplied with Apple technology.

The manufacturer claims that thanks to this platform, you can create films, while using special effects, filters, dubbing and editing yourself.

You can resort to the "green background" option. The footage on a green canvas is loaded into iMovie and the technology will replace the background with your chosen one.

As stated by the creators, the movies created in this application are no worse than Hollywood masterpieces. This is explained by the presence of a variety of templates, logos and the ability to enter the name of the film and credits.

It is important that the video editor is suitable exclusively for Apple technology. This means that video editing can be done not only at home on a Mac, but also away from home on an IPhone or Ipad.

Previously, the program cost $ 19.99. To use it, you had to purchase an application. In 2017, Apple decided to distribute this app for free.
Paid offers
There are no paid services as such. The program itself does not require payment now, in addition, you need to have some resources:
Apple PC;
ILife software package.
Not a huge list, but iMovie requires all the pieces to work with.
Advanced toolkit on iMovie

The software is updated on every new Mac, so the video editor also has several generations.

How can you extend the functionality to IMovie? The first step is to open the platform and go to the menu. After opening the "iMovie Prefernces" window, check the box next to "Show additional tools", then close the settings tab.

Now on the panel we see those features that were not there before: "Comment" and "Chapter Marking". The first function allows you to add commentary to a video by dragging a button onto a clip. The second marks the place you have chosen in the video as a chapter.
You can find information about the video editor on the official website of the company.
Outcome
Do I need to use this service? The choice depends on everyone.

It is a quality platform with many details and features. Videos will be beautifully edited. If these points are important to you, then it's worth a try.

If you are editing on a regular basis, you can try a more professional solution, for example, Final Cut Pro from the same developer.
Did you like this service? We hope the article was useful and you learned a lot!
16-02-2021, 10:35