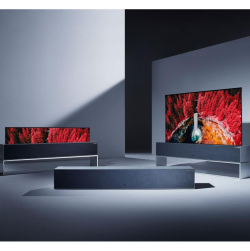 LG has developed a new TV, the screen of which can be rolled up, which saves space in the house. Other market leaders, including Samsung, are not yet ready to present something like this.
On Signature OLED TV R, the developers announced the announcement at CES 2019 in Las Vegas. It was there that many people learned about when the start dates for deliveries of this device were set, and its retail price was announced.
Users saw the Signature OLED TV R last year. It was shown at the CES 2018 conference. It was a prototype that LG demonstrated, only with a set of simple features. Now we are talking about a full-fledged TV, which is already ready for mass production.
When is the release date planned and what is the cost?
LG has always strived to be the first to bring to the market the new product that few people think about. That is why the new TV will be on sale as early as 2019. Unfortunately, more accurate data is not yet known.
But much more can be said about the cost of the device. If there is a desire to buy Signature OLED TV R in the first days of sales, then 10 thousand dollars will be enough. The first owners of the device, of course, will be impressed by the diagonal of the screen, which is 65 inches. Representatives of LG said that they plan to release more compact models, as well as wider, designed for large spaces.
Read more